In the attempt to put our house in order, I have come to the conclusion that next to the kitchen, the Laundry Room has to be changed first. I figure with

6

children

, 2

dogs

, a

cat

and other animals I spend most of my time in there washing clothes. If I want to be effective, I have to enjoy the space I "work" in.
So, change it must be.
Todd has been so very patient with me as I have run around like a mad woman, ripping things apart just to put them back together. He has also been really great about keeping the eye rolls to a minimum.
Of course the patience comes from the fact that decorating can happen on a budget, which I am great at!
The palette is
yellow

, black, and

grey
. If you are not envisioning it, that is fine, I can help.
As a refresher, this is my laundry room:
As we all know, builders put watered down flat paint in their houses as they are being built. Because of this, washing the walls is virtually impossible. All forms of
grease

,

hand prints
, and
gunk
seem to become cemented in place. When I do get it off, I can see sheet rock underneath. There fore paint is a necessity. We can start with that. I prefer Benjamin Moore paint, at the very least, their colors. I have some
Dorset Gold
left from when I painted my Living Room, so this is going to save me some
moola!
Here is a
collage
of what I plan on using. Starting from the top left and going clockwise we have the Dorset Gold in interior satin, a
Damask
patterned wall paper, and
Vintage Border
, both purchased from Steve's Blinds and Wallpaper, and
Aspen Aloe
decorative contact paper.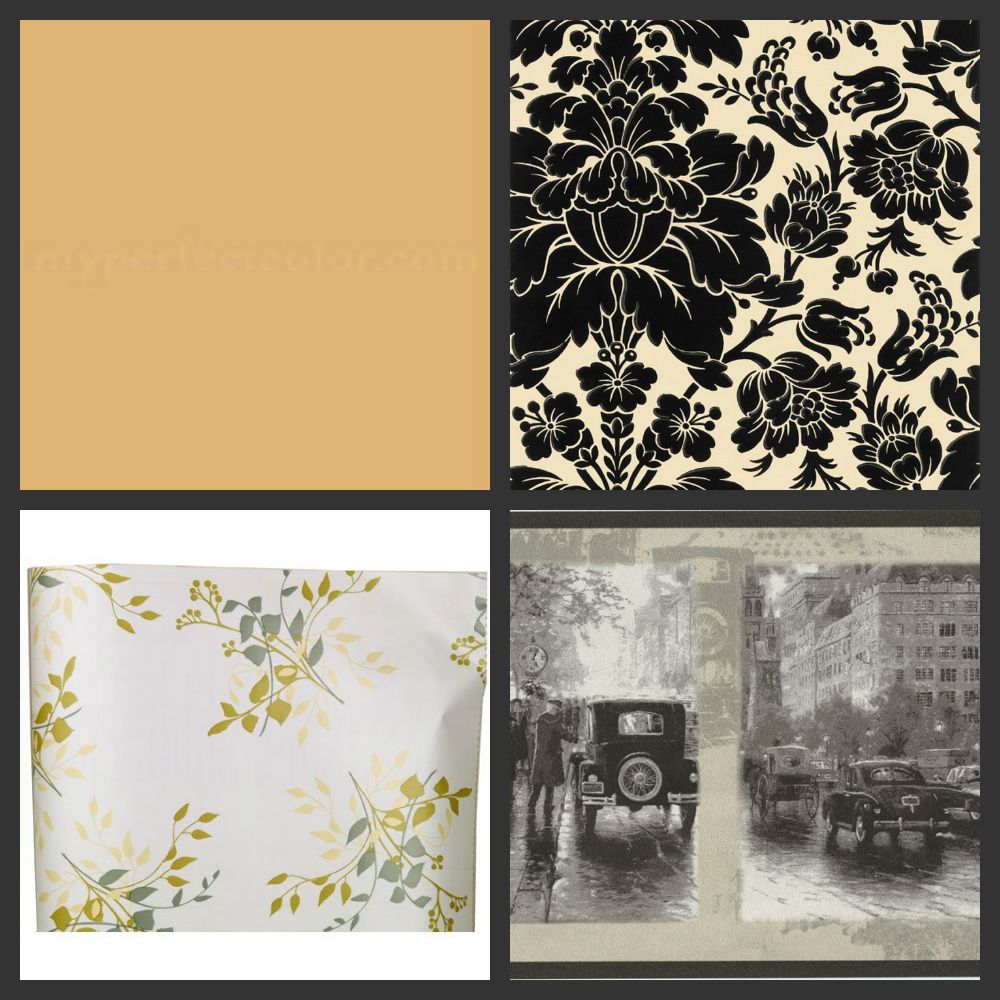 The
plan
is to paint two thirds of the wall from the ground up with the
gold
. Then one third of the wall in the
wall paper
from the ceiling down. The vintage border will separate the 2. I realize cars are not exactly laundry room material but I love anything vintage!