We all have those problem areas. (No, I am not talking about our bodies!) I am talking about those areas in a home that might be considered "common areas" which you have to share a space with someone. Oh sure we try our dangdest to make it work. You shuffle and move things around to always come back to it and realize it is not working for you. In my case, I have to share a space with a man that knows nothing of real organization. He is of the school of thought that if it is out of sight, it is organized. I am serious! He cracks me up the way things are for him. My idea of "organized" is a functional plan that can be
executed
. It will be great if I can make it look good, but if it doesn't work for day to day and cannot be carried out regularly, it doesn't matter what it looks like.
Welcome to my master closet. Hmmm, what do we have in here? Because it is not just our clothes and shoes and stuff. If you are a parent then you know that your space is NEVER your own. You "share" it with all the little people AND their toys. Even right after you clean it, the little people come in gawking at all the open space and bring their toys in to have a tea party!!!
I need some major help in this area. I was so spoiled with our house in South Carolina. We had his and her closets.... with space to put all your stuff....you didn't have to wrestle the hangers to slide them to hang a shirt up....there were shelves for everything..... And then SNAP!!! We have our Master closet here. It has space, but no function! I am convinced that homes are designed by single hermit men that think of the most ridiculous use of a space AND ADD IT TO THE FLOOR PLAN. Yes, I am frustrated if you cannot tell.
So to find some inspiration.... I Pinterest, Google, and Bing it! "Crrcchht, Could we have a dose of logic delivered to the internet please? Over, crrcchht". Are. You. Kidding. Me. These are layouts/ideas for closets the size of my FAMILY ROOM! This is not real life (at least not my real life). I am not spending $1000's on a new system here. (I just want to find the drawer my red pumps are in?!?)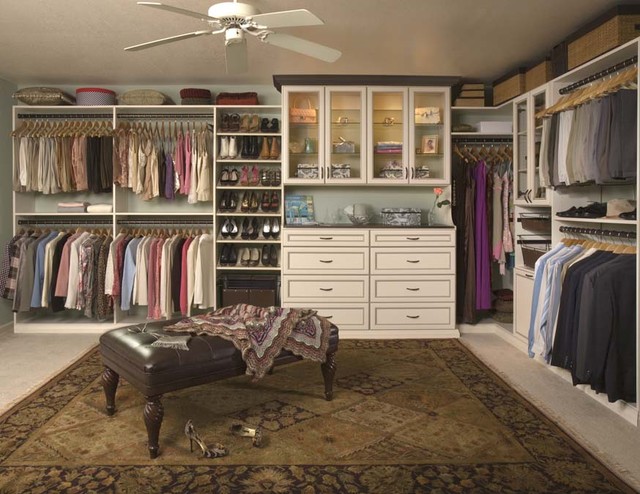 Yeah. Uhhh, none of these (as beautiful as they are) will work for me. This is the space I am working with here:
Standing in the doorway
HIS....
HERS...
I have been using these clear tackle boxes for jewelry, but I would like it out and displayed for easier access
This is the catch all for any jewelry, whether it is mine or not. THAT has to be detangled....
It's sad, on a good day. Yes!!! Those are boxes from DVD players, and cases for Nintendo DS games! Why are they in my closet?!? No idea! I have got to get this space working. So, off to the drawing board... or at least the Sketch Book- to take measurements and see if I can come up with an
execute-able
system.This is what I have to think about:
We Are Tall Peeps: I come in at 5'11" and my husband is 6'6". Therefore the space at the top of the closet it usable space for us.

This also means our clothes might be longer so I might need to adjust the height of the bars.

Storage Space Is Mandatory: For women, a lot of things we own are not always seasonal. I have purses, shoes, scarves, and jewelry that I use year round. So I need to think of a way to store these things that don't take a lot of space.
If It Looks Pretty Than I want It To Stay Pretty: This concept applies to all of us. When a space looks nice and is inviting, we tend to want to keep it that way rather than ignoring it. If I can design something where I might be able to add some decorative wall/contact paper to make the closet be an extension of our room, it will help me want to keep things organized.
Okay, I am off to see how I might be able to pull this project together before Spring gets here!